5 February 2022
Bike repair stations – what tools will you find there?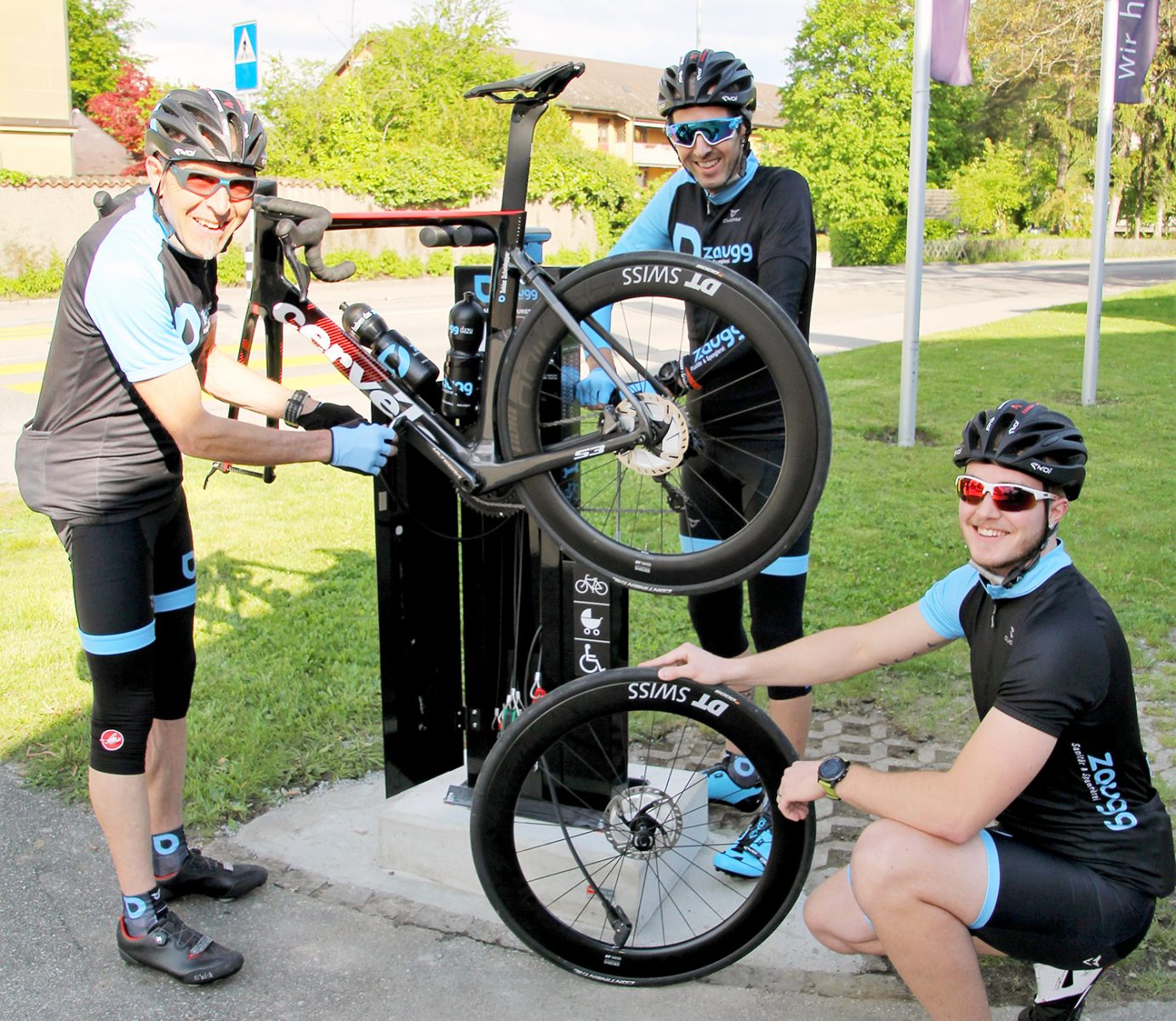 Bike repair stations – What tools will you find there?
Self-service bike repair stations are an extremely practical solution that allows everyone to repair a bicycle, scooter or skateboard for free. All the available IBOMBO models are primarily equipped with an ergonomic pump with manometer, a difficult-to-cut compressor hose and a universal adapter dedicated for all valve types. In addition, depending on the selected model, the stations are equipped with a number of additional amenities in the form of grips, stands or elbow disinfectant dispensers. IBOMBO offers several different tool configurations, which may consist of 6, 12 or even 18 elements.
What tools are the bike repair stations equipped with?
The most practical tools that are needed to repair or replace the vast majority of bicycle structural elements are a hex key set, an adjustable spanner, a tyre lever and a flat or Philips screwdriver. This configuration is characteristic of the basic station models.
Our largest bike repair stations are characterized by the highest quality tools and an ergonomic grip  for hanging the bike during repairs. The stations from this series are much more practical, because thanks to additional sets of flat spanners and skateboard socket wrench, scooters and skateboards can also be easily fixed. Universal tools for bike repairs are useful in many situations. Thanks to stainless steel ropes in a rubber coating, they are well protected against thieves or vandals. In addition, they can also be equipped with an electric bike charging module or a pneumatic skateboard holder.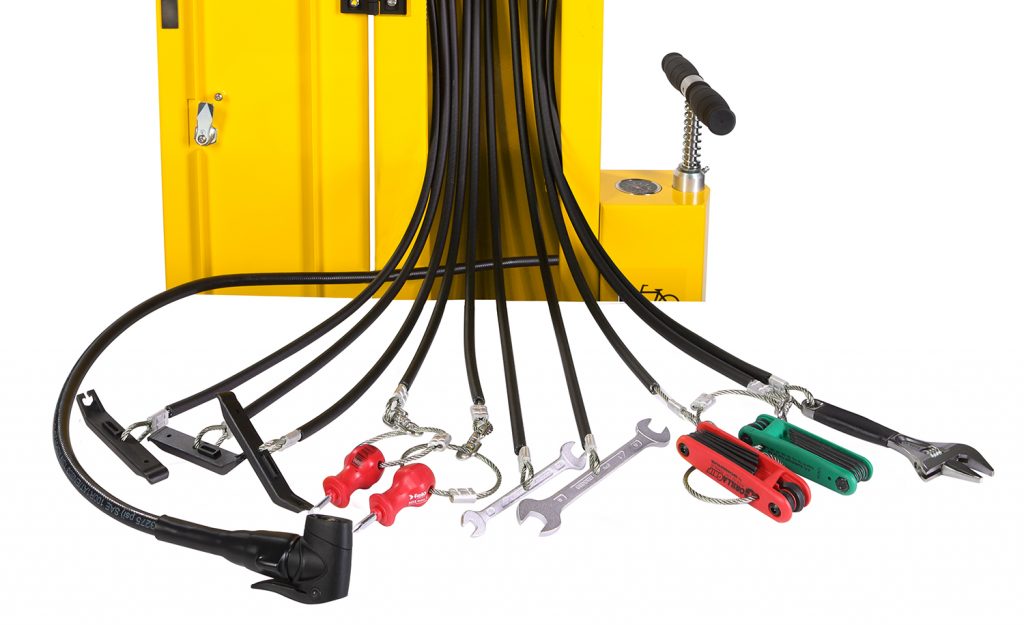 How do I repair my bike at a self-service station?
Most of the bike repairs and corrections  are not the most difficult tasks, and thanks to the right tools, it does not require the use of much force. In case of any difficulties or doubts, you can use the QR code, which will automatically redirect the user to the page containing detailed instructions. Instructional videos suggesting what tools to repair a bicycle may be needed in a given situation are a great solution for less technical people who have not had contact with basic wrenches so far.
Are the tools at self-service bike repair stations well secured?
All tools available at IBOMBO stations are secured against theft by means of durable stainless steel ropes, which, thanks to the rubber coating, do not get tangled and are easy to use. An additional advantage of this solution is also protection against accidental paint scratching or damage. All stations are also secured with special anti-theft screws, so that they cannot be dismantled without the appropriate bits. IBOMBO also provides constant access to spare parts, thanks to which the station does not lose its functionality in the event of damage or wear and tear of the tools.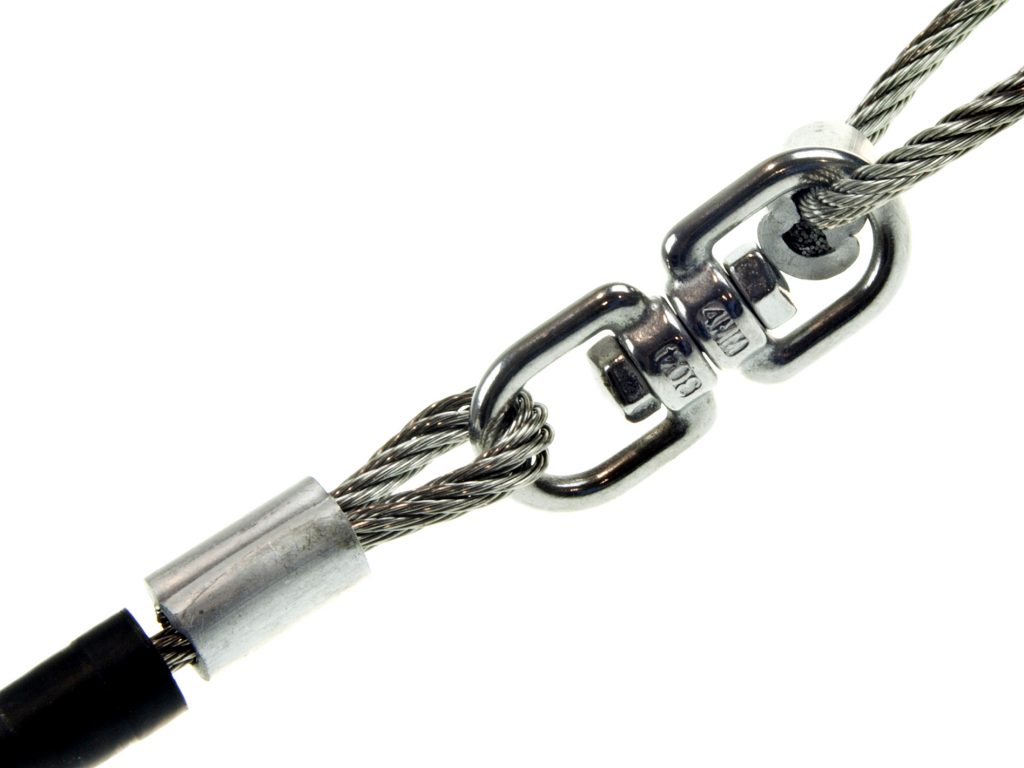 Where can I find IBOMBO self-service bike repair stations?
Our bike repair stations can be found in dozens of different countries around the world. The possibility of personalizing the colours, placing your own graphics and using the advertising space available at the stations is an ideal solution for many entrepreneurs. For this reason, our stations are most often found in the vicinity of schools, campuses, shopping malls, train stations, office buildings, recreation and leisure centres, gyms, services, hospitals, churches and bicycle paths. Tools at self-service bike repair stations may vary depending on the location, but in practice, even in the simplest variant, they will be sufficient to carry out most repairs. The adjustable spanner is one of the most universal tools as it is a great substitute for traditional flat wrenches.
Replacing the inner tube – What bicycle repair tools can be useful?
Most cyclists can easily inflate their tyres with the aid of a pump available at stations, but if a leak in the tyre or inner tube is detected, it does not make much sense. Without adequate pressure, further cycling is not recommended as it is much easier to damage the wheel structure. The process of replacing the inner tube is much easier if you can use universal tyre levers, which you can find at the repair station. Removal of the old inner tube becomes possible only after reducing the air pressure in the wheels, which should be gently lifted by means of the tyre lever. When buying a new inner tube, make sure that it fits the type and size of tyres. Solutions available on the market may also be characterized by Presta valves (also known as the French type), a traditional Dunlop bicycle valve or the Schrader known from car tyres.