27 July 2022
Things to check before a cycling trip
Are you planning a cycling trip out of town, a few days cycling in the mountains or perhaps preparing for a triathlon and several dozen kilometres on the road is your standard training unit? Whatever your intentions, you must ensure that your bike is in good working order. Find out how to check your bike before a cycling trip so as to avoid nasty surprises along the way.
Preparing for a cycling trip: things to check.
A quick inspection of your bike before a trip will only take a few minutes but can save hours of delays that would undoubtedly spoil the entire outing. You don't need to be a specialist to check whether key elements of your bike are in working order. These include the following:
– brakes,
– drivetrain system,
– lights.
Do you know what to pay attention to when looking at each of these components? Our preparing for a cycling trip guide makes things really simple. It is also worth knowing what the most common problems are.
Checking brakes
A faulty brake system presents one of the most serious dangers, no matter what speed you are travelling at on your bike. Checking the brakes on your bike If you have a hydraulic system, the performance of the brakes may be impaired by air bubbles that enter the system. This may happen a bike is turned upside down. Avoid putting your bike in this position and remember to have your brakes checked regularly.
The most common problem with V-brakes is brake pads wear during normal use. If this happens, squeeze the brake pads onto the wheel rim by pressing down on the brake lever. If the brake pads are too far away from the rim, tighten the brake cable accordingly, making sure that the pads are positioned the same distance away from the wheel.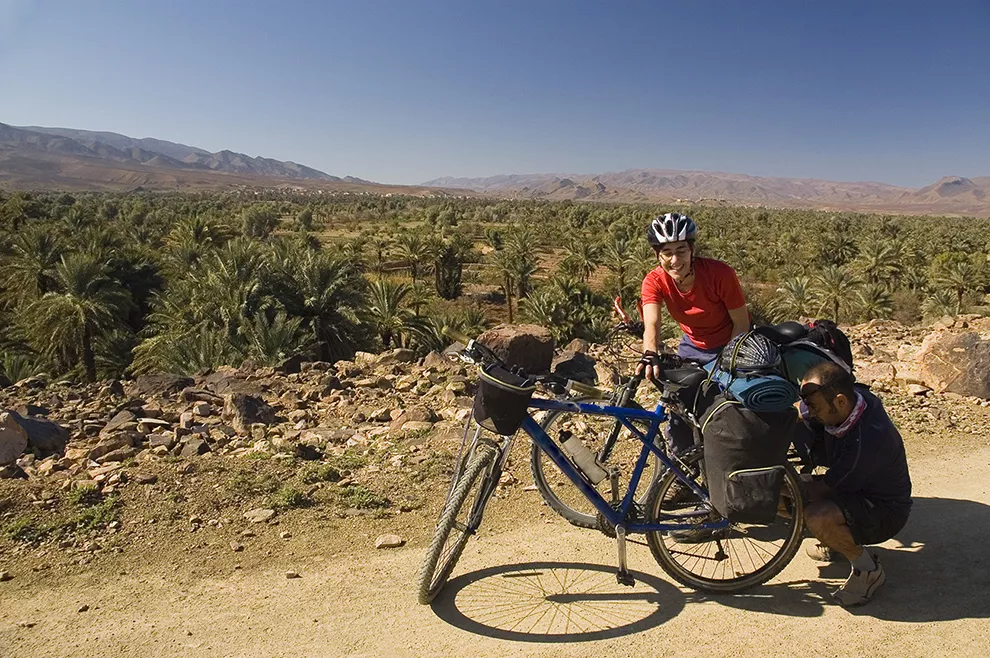 Drivetrain system inspection
A faulty drivetrain can also give rise to problems. Checking a bike drivetrain. Three elements are key here: chain, chainset and cassette. A chain that is too loose can damage the other two components. Badly worn out teeth on a chainset are a sign that it needs to be replaced. If the gears do not shift smoothly with the derailleurs properly adjusted, then it might be is time for a new cassette as well.
Don't forget to check the lights.
As USB or rechargeable battery powered lights have become widespread, it has never been easier to take care of your bike lights. The only thing to remember is to charge or change the batteries. However, this should absolutely not be overlooked as cycling without working lights is still one of the most common causes of accidents!
A problem on the road? A repair station will help
It may turn out that unexpected problems on the road will still happen even after preparing for a cycling trip. If you do happen to have a problem whilst cycling, it is worth checking whether there is a public IBOMBO bike repair station nearby More than 10,000 of our stations are installed across Poland, Germany, the Czech Republic, Slovakia, Hungary, France, Spain and many other countries in Europe. You can use these for quick and hassle free repairs to your bike and then carry on your journey.