2 June 2022
Where to install bike repair stations?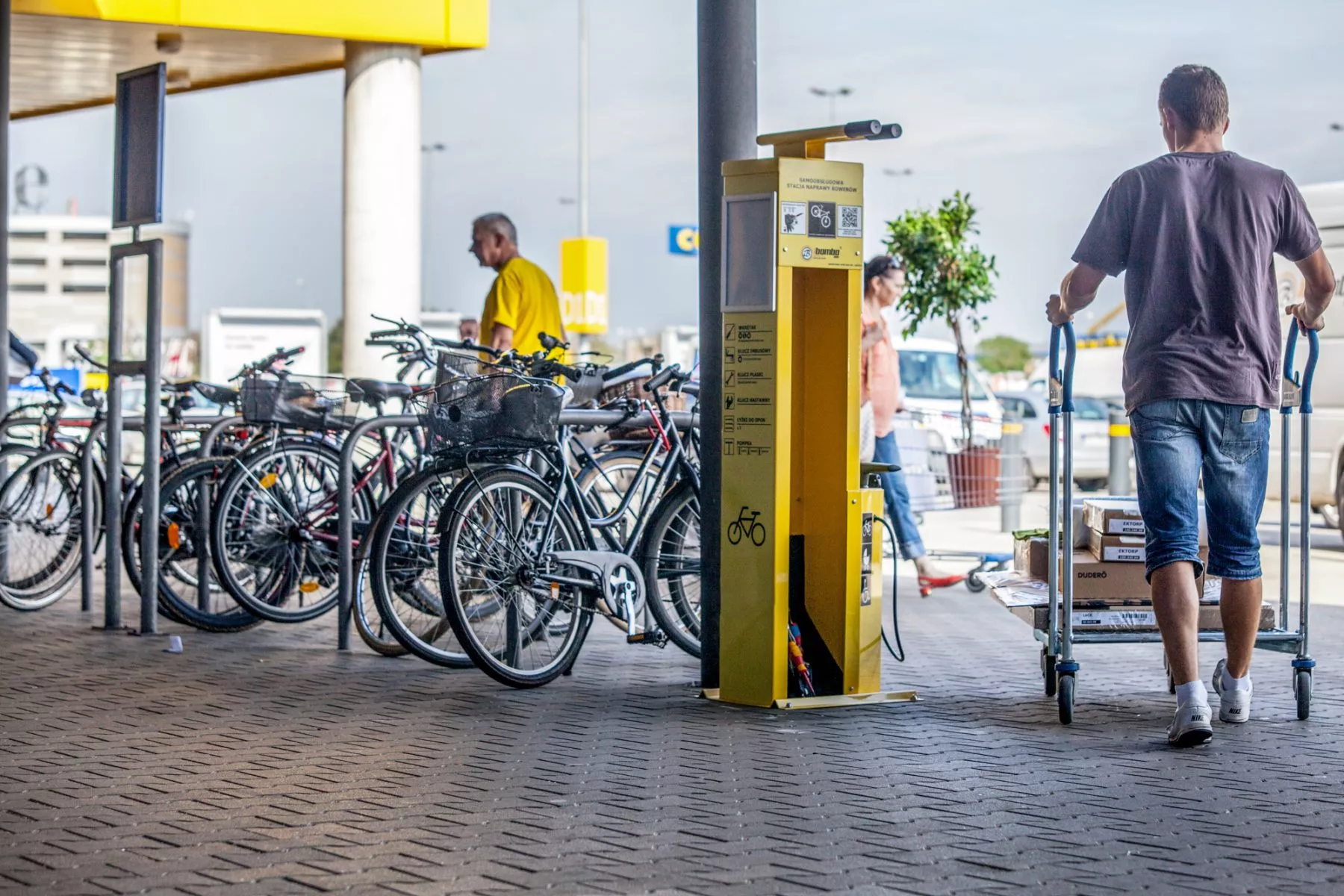 v Unless help is at hand, even a small problem during an outing can ruin the entire experience. Therefore bike repair stations should be installed in strategic locations. And how do we find those? We will discuss this in today's post.
Cycling paths – the obvious choice
Due to their nature, it is difficult to imagine a better spot. A constant flow of bicycles means there is no shortage of problems to take care of. It is simply wrong to leave cycling paths without public bike repair stations. Cyclists have every right to feel safe when out and about. With that in mind, access to professional tools when a problem does occur is tantamount. And a self-service bike repair station within easy reach guarantees just that. One per section suffices to improve the cycling experience and the feeling of safety
Self-service bike repair stations in public places
Repair stations at key locations in towns and cities are a great idea. What kind of locations are we talking about? Primarily those visited by many people every day. These could be shopping centres, megastores, office buildings as well as other workplaces. A bike repair station makes it easier to decide to travel by bike instead of a car. Cyclists don't have to worry about not making it to work on time or not making it back home with shopping because of a straightforward problem. Stations by public offices and other institutions such as schools, universities, libraries and even clinics or hospitals are also an interesting option.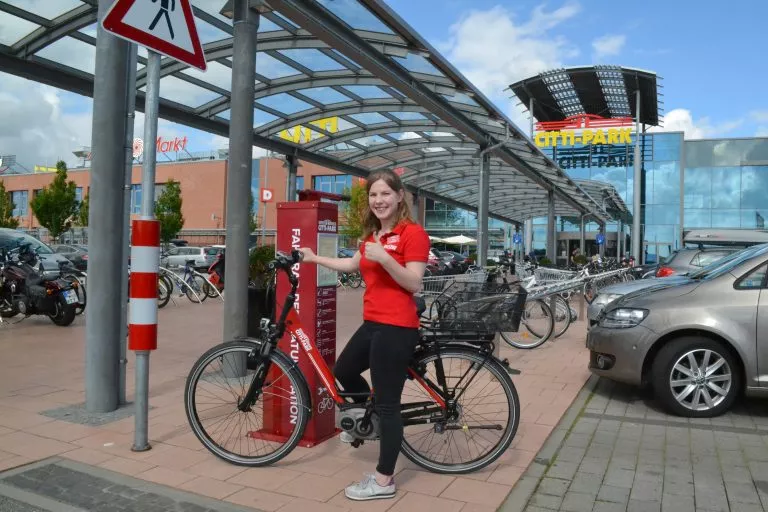 Some less obvious locations for bike repair stations
Can bike stations be installed at other locations? Without a doubt. They take up little space and deliver pure added value. Just imagine a situation, where a cyclist chooses a café across the street from yours just because of a self-service bike repair station outside of their doors. The same is true for all other places where people come to rest, relax or work out, such as swimming pools or restaurants. A small investment will make a location more attractive for many people.
Every petrol station could do with a bike repair point. Well cyclists are part of the road traffic community, and they have their rights too. There is ample space at a petrol station for a cyclist to take advantage of professional assistance. Apart from that, any residential area is a perfect spot for a self-service bike repair station. As a result, cyclists have the tools they need at hand, no matter how far away from home.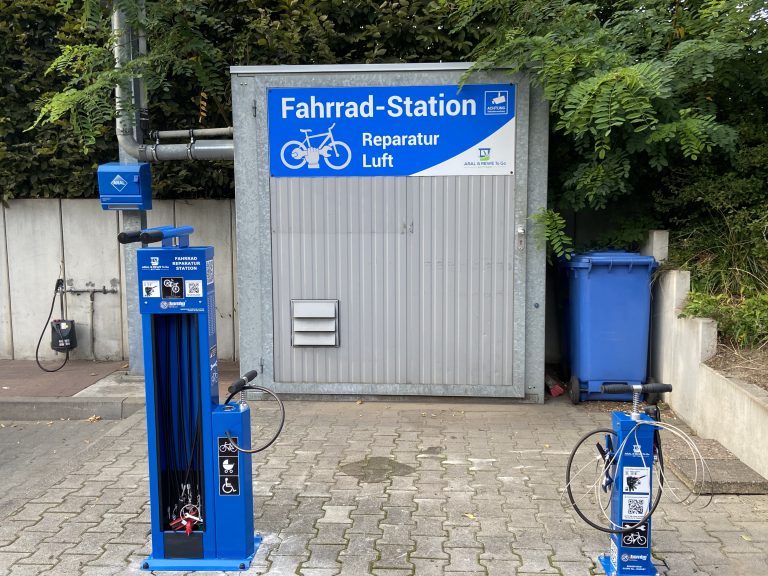 Self-service bike repair stations: most interesting locations
Churches? Military facilities Care homes? Historical monuments? These are just some examples of unusual locations where bike repair stations have been installed. Well people do go there too, and in many cases, bicycles are a much better means of transport than cars. It is also worth mentioning that IBOMBO stations have also been installed on one of the highest passes in the world, the Khardung La in the Himalayas (5364 m a.s.l.) and even in the town of Manang in Nepal (3540 m a.s.l.).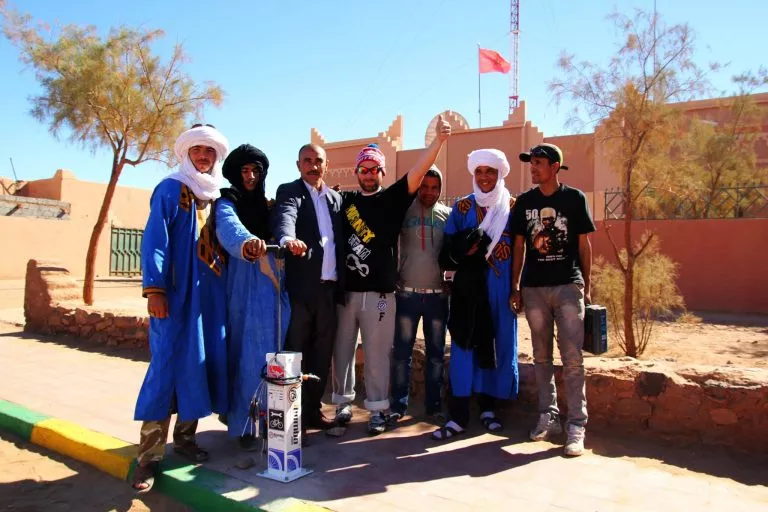 City bike repair stations across the entire Europe
Such facilities are becoming increasingly popular around the world. However, they have been received particularly well in Europe. Bike repair stations have become particularly popular on our continent that thanks to the efforts of individuals associated with the IBOMBO brand as well as fruitful cooperation with various European local authorities.
It is therefore very likely that we will be seeing increasing numbers of bike stations at various locations. They can be installed virtually anywhere. Then there is nothing stopping city bike stations from standing watch over more cycling paths, shopping centres and even deserts!