7 September 2022
SHIMANO becomes an IBOMBO distributor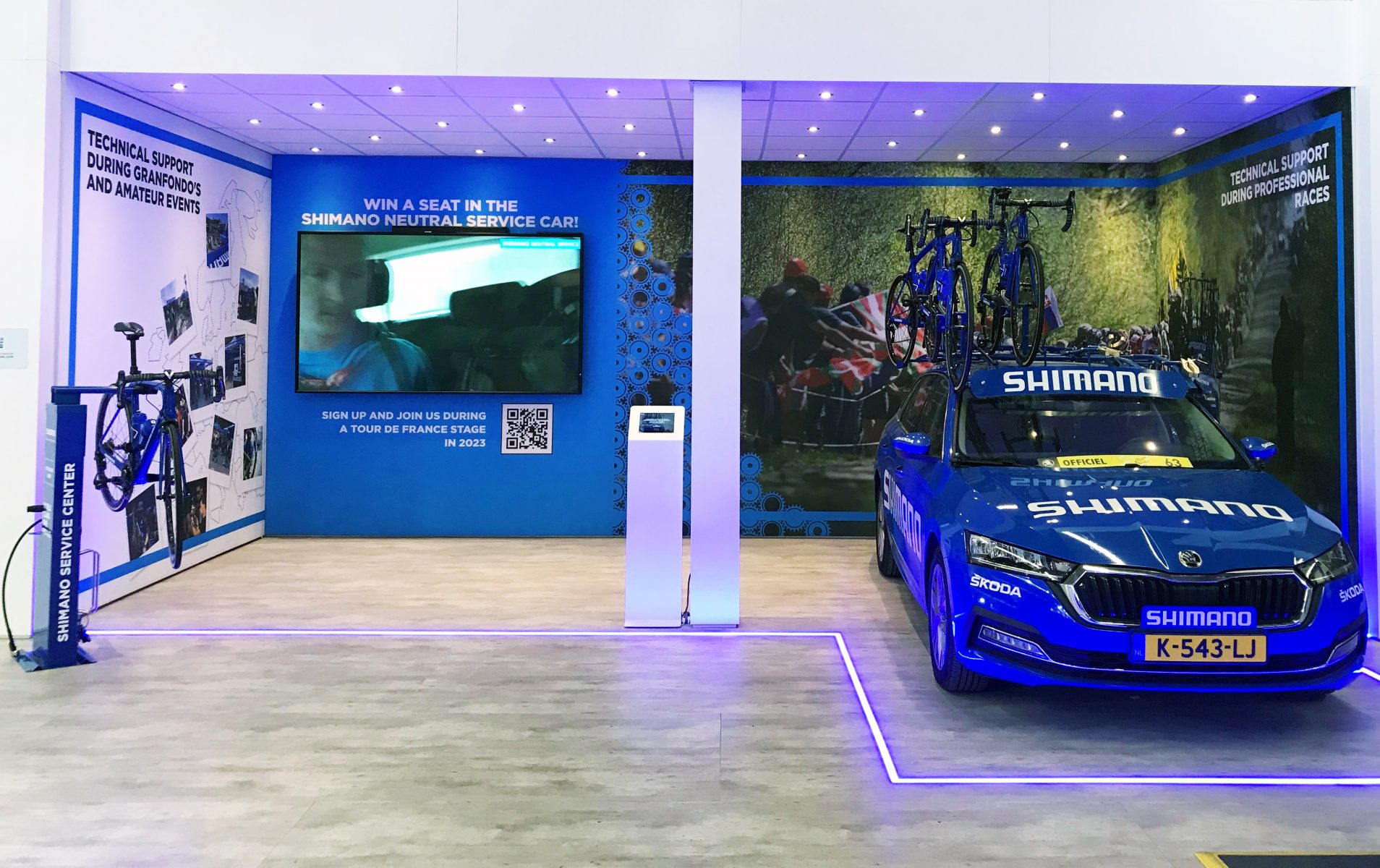 We are pleased to announce that for several months we have been cooperating with Shimano – the largest manufacturer of bicycle components in the world and the most famous bicycle brand on the market. Our joint project was shown to a wider audience at the largest bicycle fair in Europe in Frankfurt am Main (EUROBIKE 2022) – IBOMBO SCANDIC Bicycle Repair Station shown there, was made of stainless steel, powder coated in RAL 5005 color and designated with the "Shimano Service Center" design . In addition, this model has been equipped with a number of accessories that increase durability and comfort of use: heavy duty pump piston, bike stand, swivels, pump hose with steel reinforcement and prototype of a new pump head made of aluminum and stainless steel.
Our main goal with the Shimano brand is to work together on many markets, which will enable the installation of IBOMBO products in many locations – a repair station where you can hang your bike, use a set of tools, bicycle pump (max. 10 BAR) – available free of charge as part of self-service bike repair stations.

Sudden, random technical problems with the bike while covering the cycling routes can spoil the whole day planned for a joyful trip or ride, and frustrate many plans. Lack of a bike repair station and the lack of the necessary equipment for repairs becomes a big problem then. Obstacles pile up, and the sand of time planned for a quick trip or recreation are running out. In case of a failure of our bike, we do not always have the basic tools with us for small, but necessary adjustments. The experience of many cyclists shows that despite the fact that we are foresight and have some carry-on repair equipment, our actions and the repair are usually ineffective. Bicycle service employees do not always have time to remove a minor defect right away. Selection of high-class tools by IBOMBO, construction of an efficient bicycle pump with a head for all types of pistons, will certainly solve many problems with bicycles.
Almost everyone knows the Shimano company from Japan, even if they are not passionate about cycling. The company has a 70% market  share of the derailleur gears and brake. So, seven out of ten cyclists worldwide have a Shimano component on their bicycle. The company has been on the market for over 100 years, and has similar start like us 10 years ago – in a small craft workshop. Today, IBOMBO is a leader in production of bike repair stations, and Shimano is a giant in the bicycle industry.
The key inventions of the Japanese are a really long list. Thanks to phenomenal solutions they changed the bikes once and for all. The company's operating philosophy is similar to ours – we act carefully with novelties, we want to make sure that the product is refined in every detail. Nowadays, Shimano is a symbol of the highest quality. Its offer includes the bicycle gearing for all types of bicycles – from the most expensive racing bikes to the cheapest bikes on the market. The company offers bicycle cleaning materials, clothing, pedals and bicycle shoes, and recently our stations.
Our driving force is the cooperation with the world's largest brands. It is thanks to their trust that we can constantly develop and increase our production capacity. It is the best flagship and at the same time a guarantee of the highest quality of our products.